Chi Hair Dryer Reviews

Chi Touch Screen Hair Dryer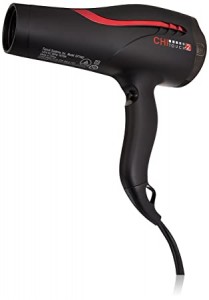 High tech features and immense power make the Chi Touch Screen with 1800 watts of power one of the best hair dryers on the market. The only disadvantage is the high price tag.
The [easyazon_link identifier="B013DQHL5Y" locale="US" tag="shophairdryers-20″]Chi Touch screen hair dryer[/easyazon_link] brings touch screen technology to your hair dryer. This is the latest and greatest from Chi when it comes to tech and also one of the most expensive Chi dryer's we've looked at.  The full color 3″ LCD allows you to customize the airflow and heat settings. The DC motor works in conjunction with the ceramic and infrared technology in order to reduce frizz and static.
Chi Touch Screen Features & Specs 
If you are looking for the most powerful dryer that Chi makes then look no further than the Chi Touch Screen. This dryer boasts 1800 watts of power with enough air flow to dry even the thickest and longest hair. If your hair requires a lot of heat in order to manage you may want to give the Touch a whirl. Negative ions leave hair soft and manageable. The design is striking with a deep red matte exterior accented with chrome accents. A cold shot button is in place to lock down your style. This dryer is ideal for anyone who wants the latest technology and from Chi.
What Reviewers Had To Say About The Chi Touch Screen Hair Dryer 
Reviewers loved the modern LCD touch screen and said the controls were intuitive and easy to use. Many users also noted that the Chi Touch hair dryer was very light weight and comfortable to use over an extended period of time. Some users ended up with smoother and straighter hair after styling with the Chi touch.
Chi Touch Screen Pros & Cons
Pros include the modern LCD touch screen display which is a unique feature and not found on many dryers and the dryer's light weight. The only con is the price tag which is on the higher side.
---
Chi Pro Hair Dryer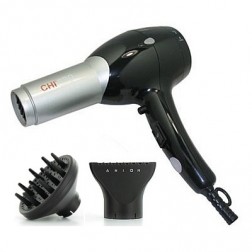 The Chi Pro hair dryer is a low EMF blow dryer with 1500 watts of power utilizing the latest ceramic technology including negative ions and far infrared for smooth, silky locks. With 1500 watts of power, the Pro is one of Chi's more powerful hair dryers and is ideal for anyone with long or thick hair.
However, it is not the most powerful Chi dryer; that honor belongs to the Chi Touch which offers 1800 watts of power. However, the Chi Pro's 1500 watts should be more than enough to meet the needs of most hair types.
Chi Pro Low EMF Features
Far infrared heat dries hair from the inside out in order to lock in moisture and minimize damage.  The Chi Pro Low EMF dries hair faster than 50% of regular dryers making it perfect for those who want to save time.  Negative ions reduce frizz for more manageable hair.
Two speed settings and a cool shot button is in place to help you lock in your style.  It's extremely light and ergonomic at 1.5 lbs. This dryer comes with the CHI diffuser which is perfect for styling curly or wavy hair. A concentrator is also included for salon style blowouts.
What Reviewers Had To Say About The Chi Pro Hair Dryer
Users noted less frizz and faster drying times and liked the fact that it was on the quiet side.
Summary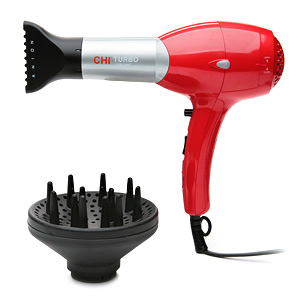 Author Rating
Brand Name
Product Name