Best Hair Dryer For Fine & Thin Hair
Looking for the best hair dryer for fine hair? Ceramic dryers are ideal with those with fine or thin hair. Despite the popularity of ionic and tourmaline drivers these aren't ideal for fine hair; these are designed to smooth the hair cuticle which may turn fine hair flat. The key to achieving a voluminous look for fine hair is directing the dryer towards your roots when you blow it out (for maximum volume) and using a ceramic or infrared heat dryer.
If you must get an ionic blow dryer get one which gives you the option of turning the "ion setting" off. This way you can share with other members in your household. Lower heat settings are safest for fine hair; look for a dryer that has numerous speed and heat settings. Here a look at the best hair dryers for fine hair
Babyliss Pro CeramicXtreme

The Babyliss Pro is our pick for the best hair dryer for fine hair. It comes with 6 heat/speed setting and a cool shot button making it easy to adjust the heat for fine or thin hair. It's a solidly built appliance with a matte black finish. The dryer utilizes ceramic technology which is ideal for fine hair. 1900 watts of power and 6 heat/speed settings are available along with a cool shot feature. The Babyliss Carrera features a sleek black body and is relatively light weight considering its power.   It comes with a narrow concentrator nozzle , 9″ cord and removable filter. A 3 year limited warranty is available from the manufacturer.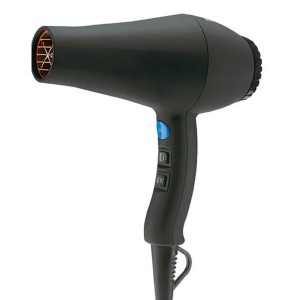 What Reviers Had To Say About The Babyliss Pro BABP6685N Ceramic Carrera2 Best Hair Dryer For Fine Hair 
Some users have noted that it's easy to accidentally hit the temperature settings while using it due to their location.  Users have noted their drying time reduced by as much as half with this dryer. One user noted that this dryer dried her baby fine hair beautifully; with heat that is extremely powerful yet controlled. Another reviewer stated that she noticed the volume on her hair "grow" when blasting the roots of her fine hair with the Babyliss Carrera2; however she would start at the highest setting and work her way down due to the intense heat.
What Makes Babyliss Pro BABP6685N Carrera2  The Best Hair Dryer For Fine Hair.

The Babyliss Pro Ceramic dryer utilizes ceramic technology which is ideal for those with fine hair. Tourmaline technology is all the rage currently and with good reason; it leaves hair super silky and smooth but that doesn't necessarily make it ideal for fine hair. Hair that is super fine can look flat when it's super smooth and straight. A ceramic blow dryer will create more volume at the roots when combined with blow drying techniques such as aiming the airflow at the roots.
Pros & Cons
The biggest pro of this blow dryer is that it gets super hot and creates volume for fine hair. Some reviewers gave this dryer a low review because it was deemed "too powerful". If you hair is fragile we recommend using a thermal protectant spray before drying and avoid lingering along one section for too long.
Get The BaByliss Pro Ceramic Xtreme
---