Conair Hair Dryer
Jump to our reviews; the affordable Conair 1875, Conair 3Q , Conair Cord Keeper (featuring a retractable cord) and the Conair Yellow Bird (non-ionic).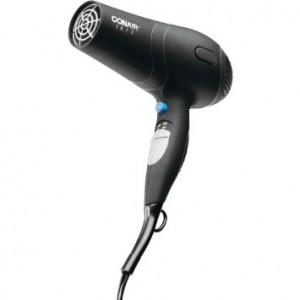 Conair 1875
What we like the most about the Conair 1875 watt Tourmaline ceramic hair dryer is its low price. If you're looking for an affordable option it doesn't really get any better than this dryer in terms of value. Despite its lower price, the Conair 1875 is jam packed with features and technology generally found on pricier models.
This Conair hair dryer utilizes ceramic technology in order to prevent heat damage while ionic technology reduces frizz for shinier and healthier looking locks. 3 heat and 2 speed settings are available for numerous styling options. A cool shot button is in place to lock in your style. The lower heat settings are suitable for those with fine or delicate hair while the higher heat temperatures are ideal for those with long and thicker hair. The surface is soft which makes it comfortable to grip and use for extended periods of time.
We especially like the hinged filter which makes cleaning a breeze. This Conair hair dryer comes two attachments; a concentrator for precision styling and a diffusor in order to style curly and wavy locks. The Conair 1875 is an excellent choice for anyone who wants a blow dryer without spending a ton of money.
---
The Conair 3Q Infiniti Pro Hair dryer is Conair's high-end dryer. What makes the 3Q different is the fact that utilizes a brushless motor for fast results; it dries with the same power as a 2000 watt professional dryer.
The name 3Q stands for; Quick, Quiet and Quality. The powerful motor reduces drying time by as much as 70% making it ideal for long and thick hair. The Conair Q3 is quiet and incorporated patented pending nose reduction technology in order to reduce noise pollution. The brushless motor also extends the life of the dryer by ten times since dryers with traditional motors tend to wear out faster. The Q3 provides up to 5,000 hours of life compared to 175-500 hours with traditional dryers.
The Conair 3Q utilizes ionic and titanium technology in order to dry hair from inside out and reduce frizziness . 3 heat settings and 2 speed settings (low & high) are in place. A cold shot button is in place in order to lock in style. Two attachments are included; a diffuser and a concentrator. The cord is extra long at 7 feet which allows for more freedom of movement during styling.
Extra Quiet
A patent pending attachment with noise absorbing foam quiets the loudest noise frequencies making the 3Q up to 40% more quiet.
Long Life Motor
Unlike most hair dryers, the Conair 3Q doesn't  use carbon brushes which can wear out. The Conair 3Q hair dryer uses magnets and eletrronics which extends the life of the batter. As a result it delivers 10x the life compared to the average dryer and up to 5000 hours of use.
We love the fact that the Conair 3Q comes with a filter cleaning brush which makes it easy to clean out the filter.
Get The Conair Infiniti Pro 3Q
---
Tired of unsightly, long cords? The Conair 1875 Cord Keeper has a cord which is retractable with just the push of a button which makes it easy to store and travel with.  The Conair cord keeper is highly recommended since it offers the same features as the regular Conair 1875 dryer with the added bonus of a retractable cord.
Wattage is at 1875 which makes it suitable for all different hair types including thick and coarse. Features include 2 heat settings, 3 speed settings and a cool shot button. Ionic technology is utilized in order to reduce frizz while tourmaline ceramic technology protects hair from hot spots and heat damage.
Attachments include a concentrator and diffuser. The filter is removable for easy cleaning.
---
The first thing stands out about this Conair hair dryer is its bright yellow color and the fact that it's non-ionic. Contrary to popular belief, ionic blow dryers aren't ideal for every hair type. For example, ionic dryers may leave some hair flat and lifeless. Those with fine hair or who want an extra volume boost may prefer a no-nonsense dryer without the ionic and tourmaline technology that's prevalent in most of today's dryers. The Conair Yellow Bird hair dryer comes with a dual protection thermal system in order to prevent shutdown.
Key features include 1875 watts of power and a professional 9′ cord. The yellow bird dryer uses a lightweight AC motor and comes with 2 speed and 4 heat settings making it suitable for all hair types. Attachments include a concentrator and comb attachment.
If you're looking for a fun, bright Conair hair dryer that's noticeable from a mile away, this is definitely the one.
Get The Conair Yellow Bird Dryer