The Best Hair Dryer For Curly Hair
One of the most important aspect of styling curly hair is using a diffuser which softens airflow for manageable and frizz-free curls.  High temperatures aren't the best when it comes to curly hair; you may be able to achieve better results with medium and lower settings. Look for a hair dryer with a diffuser attachment or one that allows you to purchase a diffuser as an add-on.
Best Hair Dryer For Curly Hair : Deva Hair Dryer With Diffuser
The Deva Blow Dryer developed by DevaCurl is the very first and only dryer built for curly and wavy hair. What makes this hair dryer unique is its diffuser aptly named "The Hand" which is excellent for styling curls and adding a bit of extra volume at the roots.
Why Deva Curl Is The Best Hair Dryer For Curly & Wavy Hair
"The Hand" is the most unique diffuser I've ever seen. It provides a 360 degree air flow and dries hair from the inside out. It enhances curly hair's natural definition while adding lift and volume. The diffuser dries the top and bottom layers of your hair at the same time.  The DevaCurl DevaFuser (just the diffuser attachment) can also be purchased separately. It's a universal one-piece adapter and should fit most hair dryers.
What Reviewers With Curly Hair Had To Say About The Deva Hair Dryer 
Users recommend drying various sections of hair and not lingering on one spot for a long period of time as suggested in the directions. You may also want to experiment with the heat settings; many users have reported better results with the lower heat settings on their wavy hair. 2 speed and heat temperature settings are included. The cord is extra long at 9′ which means you can freely move around as you dry your hair.  Get the Deva Blow Dryer at Amazon.
---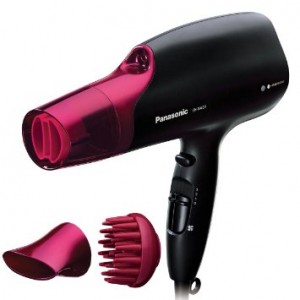 Panasonic EH-NA65K With Nanoe Technology
This Panasonic dryer is one of the best hair dryers for curly hair because it infuses 1000x more moisture into hair than typical driver. It also comes with 3 styling attachments including a diffuser, set nozzle and quick nozzle.
The diffuser attachment makes it perfect for curly hair. 2 speed and 3 temperature settings are available along with a cool shot button to help lock in your style. It offers 1875 watts of power and a 9 foot cord.
Users with curly hair  have noted faster drying times, less frizziness and smoother looking hair.
Panasonic EH-NA65-K Smooth & Shiny Hair Dryer with Nanoe Technology
---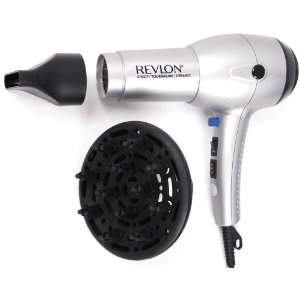 Revlon RV544PKF 1875W Tourmaline Ionic Ceramic Dryer
Not only is this Revlon dryer affordable, it also comes with a diffuser attachment which makes it one of the best hair dryers for curly and wavy hair. The dryer is platinum/silver with triple baked ceramic for even heat distribution. 2 heat and speed settings are available. A cold shot button is also available which lets you lock in your style.
Users have noted shinier, healthier and more manageable after drying. Another bonus is that it's relatively quiet and is relatively light weight at one pound which makes it easy to hold when styling.
Get The Revlon RV544PKF 1875W Tourmaline Ionic Ceramic Dryer
---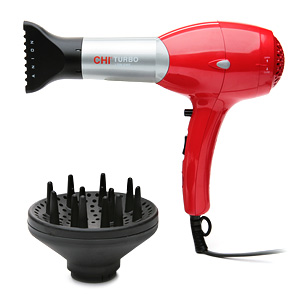 Chi Turbo Dryer With Diffuser
The Chi Turbo is light weight and ergonomic and uses ion technology for shinier hair A cold shot button is available to lock in your style.
This Chi dryer uses tourmaline and ceramic technology to add shine and volume while reducing frizz. 2 Speed settings are available. What makes this blow dryer ideal for curly hair is the fact that it comes with a diffuser attachment. Unfortunately not all manufacturers include a diffuser; an accessory that is a must for drying and styling curly or wavy hair. It's recommended to use the Chi Turbo on the lower heat settings in order to achieve the best results for curly & wavy hair.
CHI Dryer with Diffuser, Turbo Red, 2.45 lb.
---
Here's a video illustrating how to blow dry curly hair with a diffuser.