Turbo Power Twin Turbo Hair Dryer Review
Looking for a professional quality hair dryer? The Turbo Power Twin Turbo was the first dryer introduced to hair stylists across the nation. The model we're reviewing today is the Turbo Power Twin Turbo 3200 Professional dryer which uses ceramic technology to dry hair at a rapid face without damaging hair. The AC motor is designed to be durable and last at least 2,000 hours.  1900 watts of power ensures faster drying times. The dryer features an ergonomic design minimizing hand and wrist strains with prolonged use.  4 temperature settings and 2 speed settings are available. The steel filter is removable making it a cinch to clean.  Included are two accessories including a concentrator nozzle and an extra wide nozzle for faster drying times. The dryer is manufactured in Italy.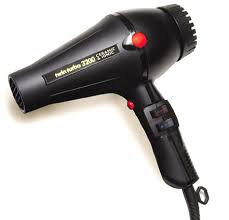 At first impression, the build of the Twin Turbo hair dryer appears to be very sturdy and solid. Turbo Power manufactures products for professional stylist. As such, you can expect the Twin Turbo to be built for heavy usage. The design is slick and this hair dryer would look great on any vanity.  The 4 temperature settings make it ideal for styling different types of hair; the high heat settings are ideal for thick hair while the cooler temperatures are ideal for more fragile or damaged hair.
The Twin Turbo hair dryer is also significantly more affordable when compared with the more expensive T3 and SuperSolano. If you want to use the same tools as the professional stylists but without the high price tag then the Turbo Power Twin Turbo would be an excellent fit.
[easyazon_link identifier="B000X1MCYI" locale="US" tag="shophairdryers-20″]Turbo Power Twin Turbo 3200 Professional Dryer[/easyazon_link]