Elchim Hair Dryer Reviews
Jump to our Elchim hair dryer reviews; Elchim 3900 and Elchim 2001.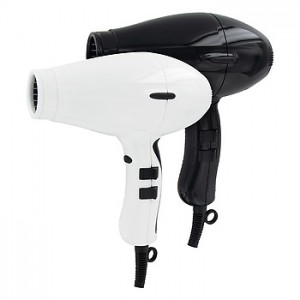 Elchim 3900 (Healthy Ionic)
The Elchim 3900 Healthy Ionic Hair Dryer is the best of the best in the famed Elchim hair dryer line. This isn't your average dryer; all Elchim hair dryers are engineered and designed in Italy with a focus on high performance and aesthetics. It dries hair significantly faster compared to traditional dryers due to the right combination of air flow, heat and power. Power is intense to say the least with 2400 watts; that's enough wattage to tame even the most unruly of manes.
The  Elchim 3900's exterior features a glossy and mirror-like shine. What we really like about this dryer is its compact size which makes it easy to store and take along on trips. It also has a built-in silencer in order to reduce noise pollution. Designers focused on ergonomics by distributing the weight in a manner to ease wear on the arms.
Elchim 3900 Features & Technology
Ionic technology leaves hair looking glossy and lustrous. It's also a low EMF dryer which means it's health and environmental friendly. The Elchim 3900 is the perfect blow dryer for those with thick, long or coarse hair due to its high temperature options. It's also one of the most beautiful dryers we've looked at due to its clean aesthetic design and ultra-glossy finish. Two concentrators are included for precision blowouts.
What Reviewers Had To Say About The Elchim 3900
One reviewer noted that the air force was extremely strong and ended up with silky straight hair without any frizz. Another user also noted that the heat and airflow switches were placed perfectly allowing for easy adjustments without having to alter your grip. Others reported being able to skip the flat iron since this dryer left their hair smooth and silky.
Get The Elchim 3900 Healthy Ionic Hair Dryer
---
The Elchim 2001 is a popular choice with stylists across the world for it's long lasting motor (guaranteed to last 2,000 hours). This Elchim dryer has won the coveted "Best of Allure" award twice.  1875 watts of power ensures enough pep to tame a large variety of hair types and textures. However, if you have extremely thick or unruly hair we recommend the Elchim 3900 for it's higher wattage. That being said, the Elchim 2001 should offer more than enough power for most styling needs.
Elchim 2001 Features & Specs
Ionic technology dries hair at a rapid pace while leaving hair silky, manageable and frizz free. A front nozzle concentrator is included which increases air pressure in order to dry hair even faster. This dryer does not have a cool shot button but it does come with a cool setting for locking in your style.
What Reviewers Had To Say About The Elchim 2001 Hair Dryer
One user reported that she was able to dry her hair much faster with less frizz
We also like the fact that it's more affordable compared to the 3900. If you want to have the full Elchim hair dryer experience at the best price we recommend the 2001. A few users had problems with the motor blowing out after approximately two years.